The most famous and worldwide known Italian spoon dessert is undoubtedly tiramisù, that literally means pick me up, lift me up.
What is Tiramisù composed of?
This creamy and soft dessert is very simple actually: it is made of layered Savoiardi biscuits (also known as Ladyfinger), that have been previously soaked into espresso coffee, and a cream whose ingredients are eggs, mascarpone cheese, sugar and Marsala wine (this last ingredient being optional).
Origins of Tiramisù
Reminding of zuppa inglese (English trifle), its origins are quite controversial. Until today, even Italian people don't know exactly where this dessert comes from. Its origins are contested by Piedmont, Veneto and Tuscany regions. It is said that it was first created in the late 1600s on the occasion of Duke of Tuscany's, Cosimo de' Medici, state visit in the city of Siena, as he was known to be very fond of sweets.
As soon as tiramisù spread, it was also found to be really appreciated by courtesans, since caffeine, a stimulant substance, had a "lifting up" power on men. On the other hand, it has also been supposed that it was created in Treviso, a Venetian city, in a restaurant called "El Toulà" in the 1970s.
Piedmont region too boasts tiramisù's paternity. A pastry chef from Turin may have invented it to support Camillo Benso's (Reign of Sardinia's Prime Minister in the middle 1800s) efforts to unify Italy.
Tiramisù recipe
Should it come from Veneto, Piedmont or Lombardy, people from all over the world are surely not bothered with its exact origins. It doesn't matter where, it doesn't matter why, the important thing is that someone's talent has created it and that it has been "exported" everywhere.
What is surprising about the tiramisù is that this wonderful mixture of the delicate flavour of the mascarpone-based cream and the intense flavour of coffee and cocoa powder do not absolutely clash. On the contrary, when you put a spoonful of it in your mouth, these flavours mix perfectly together yet without overlapping one another.
The ingredients of the tiramisù are:
eggs;
mascarpone cheese;
white sugar;
espresso coffee;
Savoiardi biscuits;
cocoa powder.
Start separating egg whites from yolks and beat until stiff. Then add sugar and keep on beating for another 3 minutes. Little by little, add pieces of mascarpone cheese and go on beating. The cream is done! Some Italian people add yolks, some others don't, so it is to your tastes.
Take a ceramic oven dish and start with a layer of cream at the bottom and a layer of coffee-soaked Savoiardi and so on till the oven dish can contain. Finally, dust with cocoa powder and put the dish in the fridge. Some recipes say to let it stay there for 2 hours, but for a whole night is even better.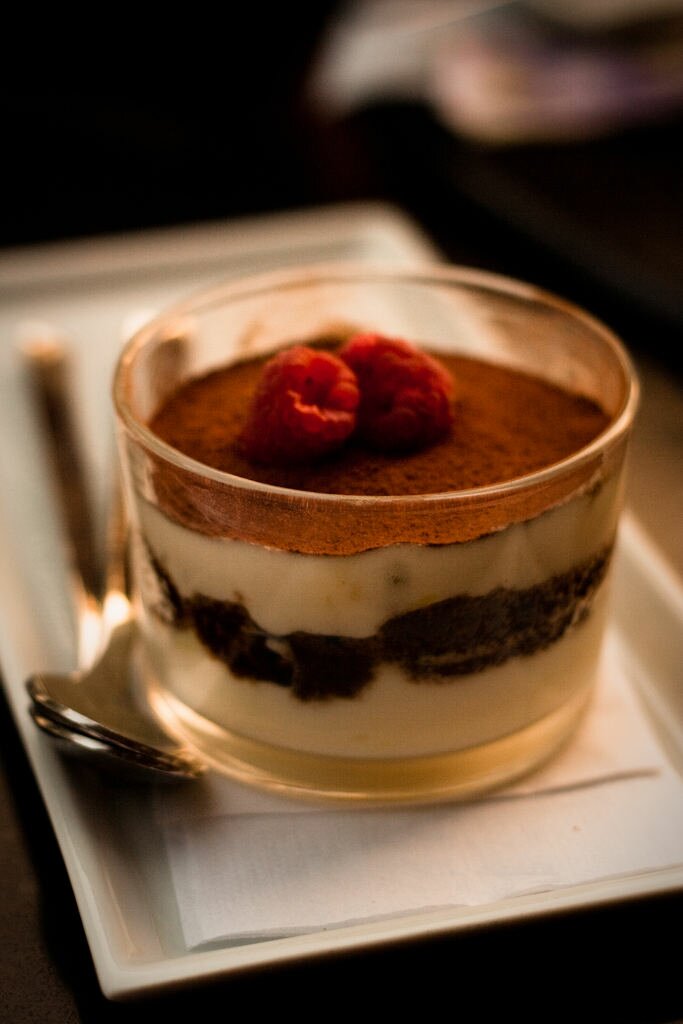 The most famous and worldwide known Italian spoon dessert is undoubtedly tiramisù, that literally means pick me up, lift me up. Photo by Peter Alfred Hess, released under Creative Commons license.
Tiramisù variations
As the best thing of cooking is letting imagination and creativity run wild, there are countless variations for tiramisù. Strawberry tiramisù, for example, is always made of Savoiardi biscuits but whipped cream is added to the mascarpone cream. Same thing for all fruit tiramisù. Some other variations include chocolate tiramisù, with chocolate cream and grated chocolate, yogurt tiramisù and even beer tiramisù.
Tiramisù video tutorial
"A world of Sweets ep. #1: Tiramisù" by Alessandra Gambini from breadloveanddreams.com
Sources
giallozafferano.it - Tiramisù
it.wikipedia.org - Tiramisù
delallo.com - Tiramisu: A Cause for Celebration
italianfood.about.com - The origins of Tiramisù