It is a tiny island in the Mediterranean sea. It faces Tunisia and Libya, so it's closer to Africa but belongs to Italy from a political point of view, and more precisely to Sicily. It is the most southern European territory placed on the African tectonic plate. Hence, its climate is very mild and weather could be windy in the winter but the temperature is never freezing!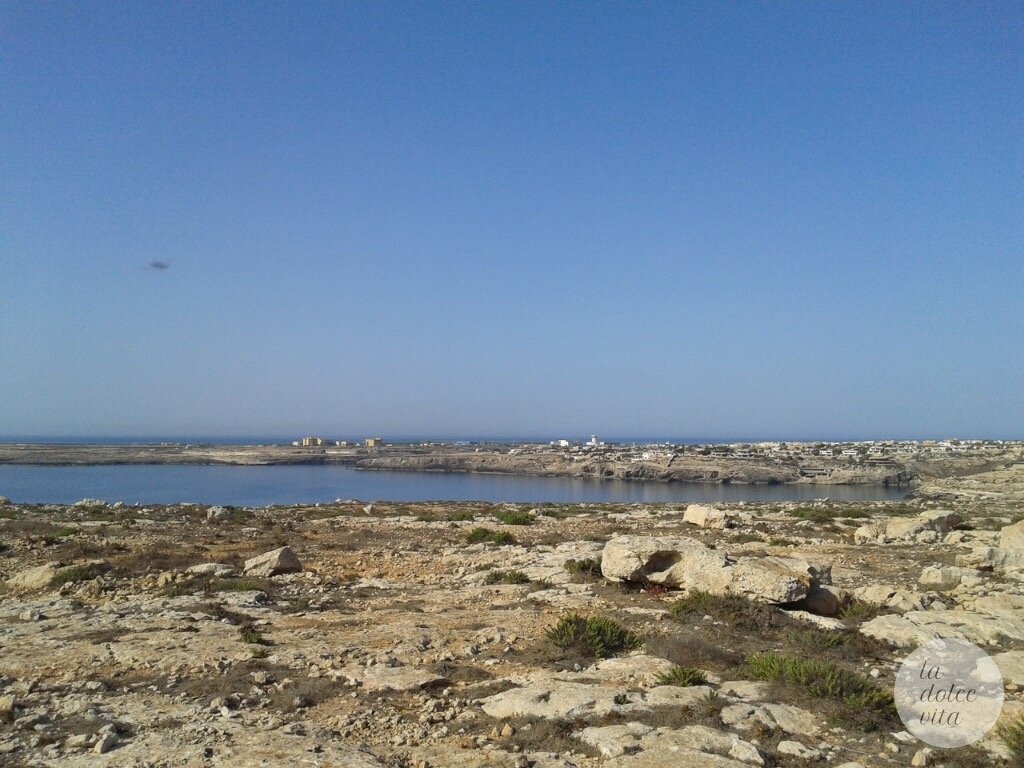 Spiaggia dei conigli in Lampedusa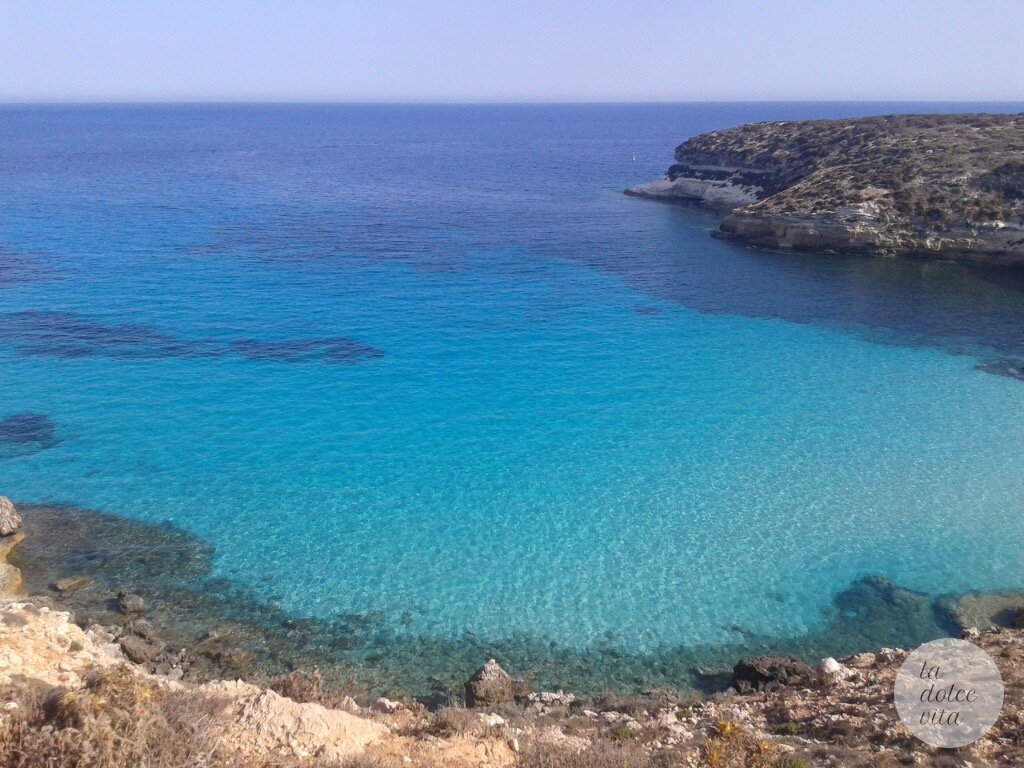 Mostly a summer holiday destination for Italian tourists only, it has lately been chosen by foreigners as well, both Europeans and non-Europeans, like Japanese, Chinese and American tourists.
How come that tourists from far-away territories leave for this small land in the middle of the sea?
Cala Pisana in Lampedusa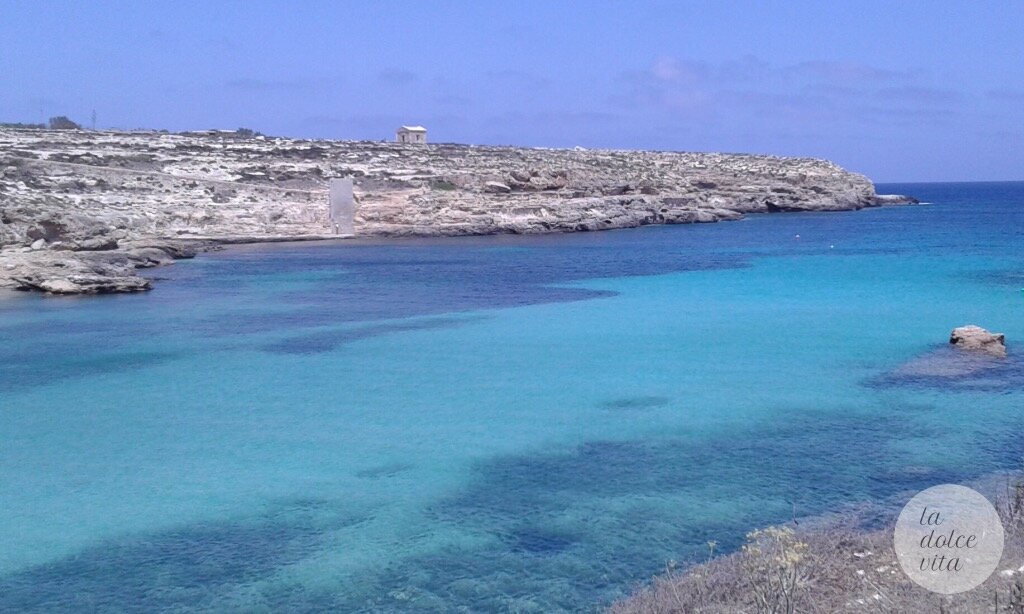 We could reply by saying that the reasons are numerous: the climate, the beauty of nature, the delicious food and the warm and sunny local people, but this would be too synthetic. This information could suit other places too if we don't go deeper.
Because Lampedusa really deserves to be carefully described.
Sea and nature
As soon as you get off the plane, the first things that you can notice are the humidity and the heat. Once outside the airport, you can already have a hint of what Lampedusa looks like: a territory where the green of plants has been replaced by the straw yellow of the dried vegetable species, and where houses have that square shape that is so similar to northern African ones.
Some typical houses of Lampedusa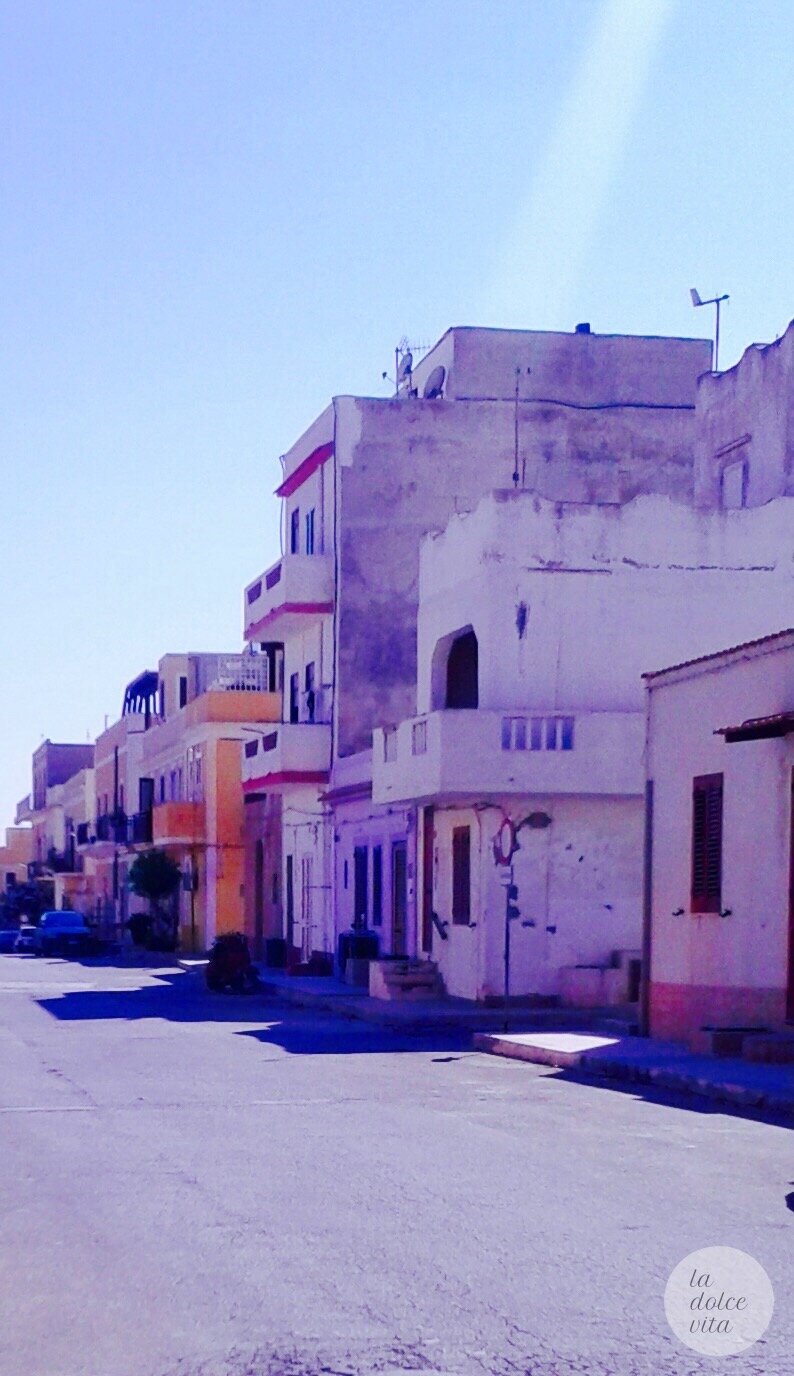 Lampedusa's territory is mostly rocky and its vegetation consists in plants such as aloe, agaves, prickly pear, bougainvillea, oleander and fig, lemon and olive trees, typical of the Mediterranean scrub. It is really easy to smell the combination of these plants and trees scents while wandering around. If you penetrate and explore the inner territory, nature gets wilder and territory is barren and stony. Just some small dried bushes, dust, gravel. Here, don't expect any inhabited town. There are only some dammusi (typical houses in Lampedusa made of stones) just scattered here and there.
Damnuso is a typical house made with the stones of Lampedusa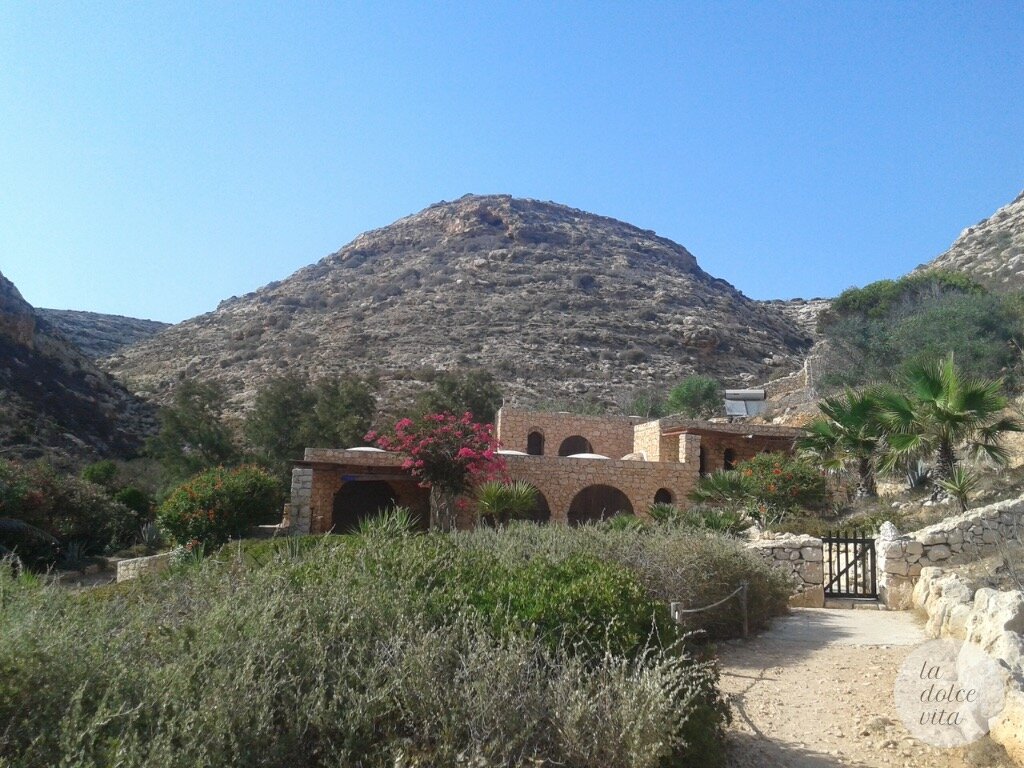 The only town in Lampedusa extends around the harbour, source of the major ingredient of the local cuisine: fish.
And then, there is the sea. This liquid moving expanse that shatters against Lampedusa's coasts, digging some of the most beautiful coves, like Cala Francese, Cala Creta, Cala Maluk, Cala Pisana. There are also some white sand beaches, like the Guitgia, Cala Madonna, Cala Croce and the magnificent Spiaggia dei Conigli. This is part of a nature reserve and when you walk to this small beach, you will be struck by the view of the sea from a high cliff. A transparent, multicolored and crystal-clear sea that shades from aquamarine to turquoise, then blue and dark blue. People's access to this beach is regulated to allow caretta caretta sea turtle's variety to come here to lay their eggs. So, no fishermen are allowed and tourists are exhorted not to leave trace of their passage.
Cala Creta in Lampedusa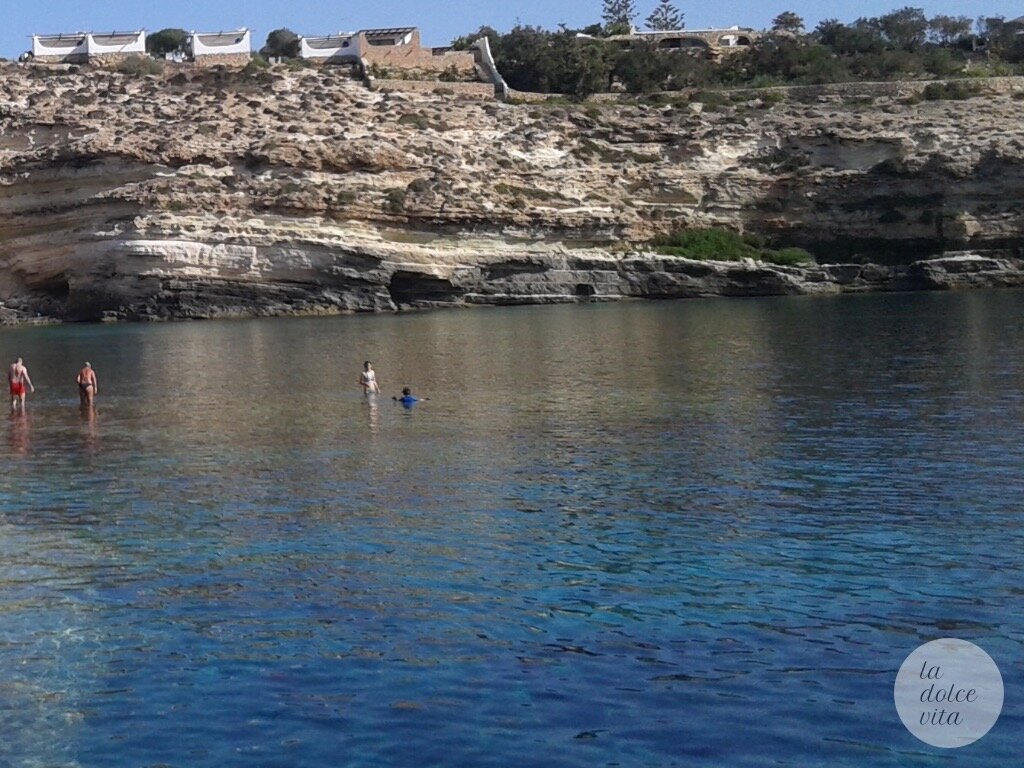 Sea, beaches, cliffs, rocky bays, turtles and dolphins as well and the dried and dusty inner landscape. This is what you can find if you choose to leave for this stunning island.
The beautiful color of the sea between cala Maluk and cala Francese in Lampedusa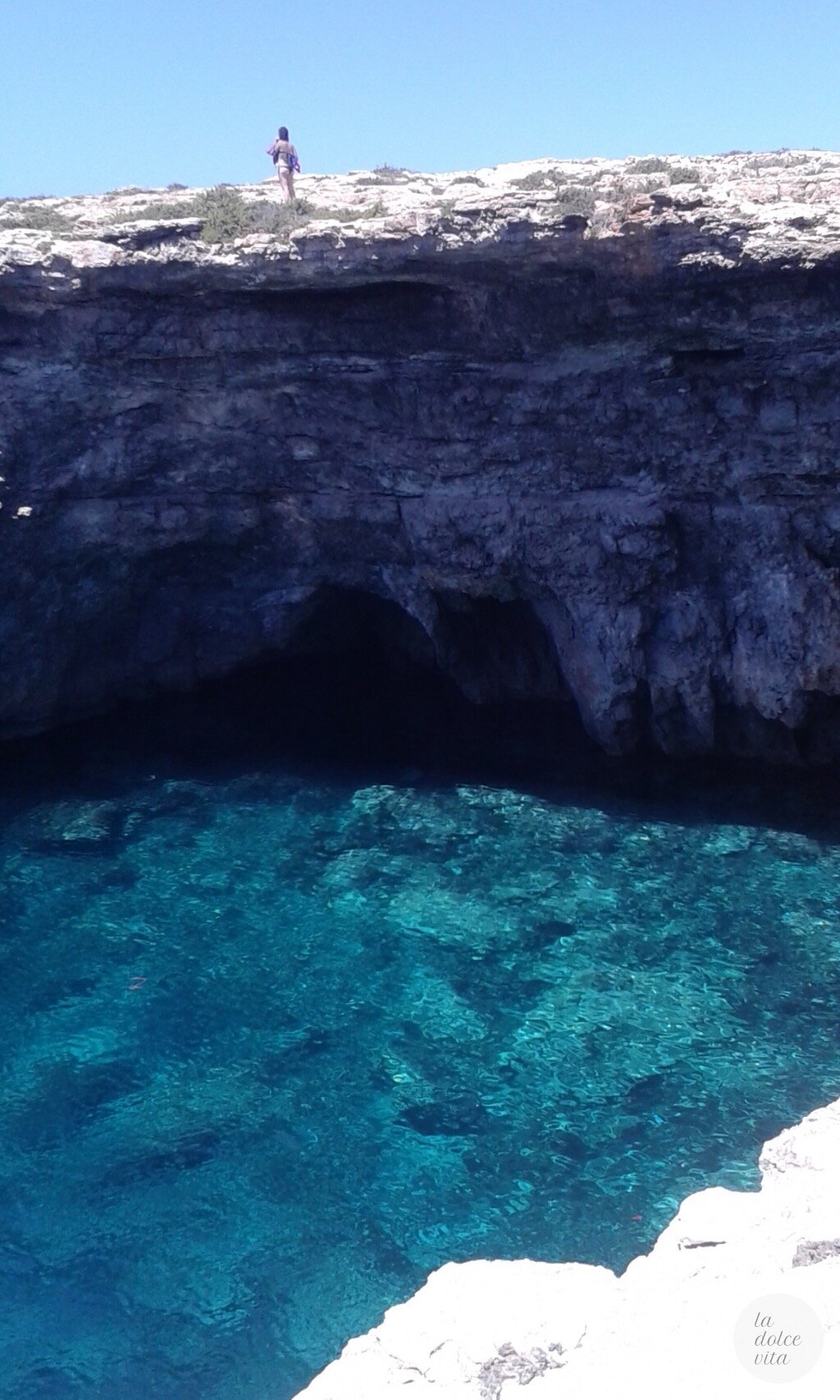 A holiday where the contact with nature, the sea and the welcoming local people will be the best relaxing therapy ever. And that's not all.
At sunset watching the ships in the old port of Lampedusa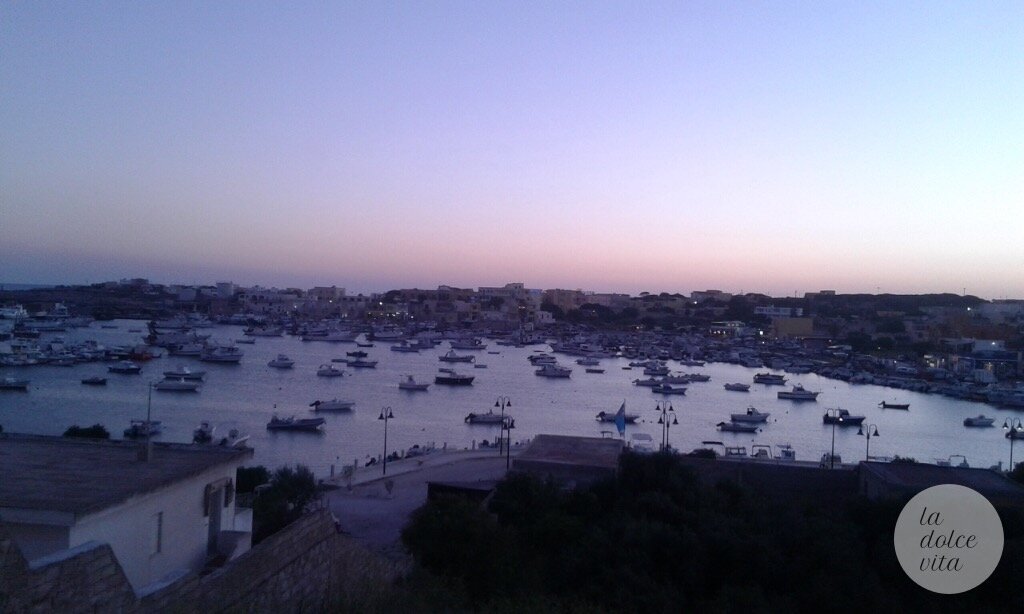 Lampedusa's food. A great variety
As an island, the major ingredient here is fish. You can always find fresh squids, tuna, swordfish, monkfish, breams, shrimps, red mullets, just to mention a few.
Fish here is cooked and eaten with pasta or by itself, grilled, roasted, steamed, marinated with lemon juice and a drizzle of extra virgin olive oil. Some other few ingredients that you can easily find in Lampedusa's dishes are raisin, pine nuts, pistachio, capers, sweet onions and olives, all of which are locally grown.
Let's start by mentioning one of the easiest dishes. Capricciosa salad, that is made with tomatoes, sliced sweet onions, basil, bologna cubes, pecorino cheese pieces, capers and green olives.
A typical salad in Lampedusa
Another typical delicacy is stuffed squid in tomato sauce with steamed potatoes. It is easy to make and very very tasty! And we can go on with the list by mentioning tuna balls drizzled over with lemon juice, swordfish coated in finely chopped pistachios, pasta seasoned with eggplant and swordfish tomato sauce, Sicilian arancine and granita, the caponata where pine nuts and capers are added, Sicilian pasta with sardines and wild fennel, and Sicilian sweets like cassata. To finish, the wild fennel liquor is what you need to digest all these culinary pleasures.
A dish of pasta in Lampedusa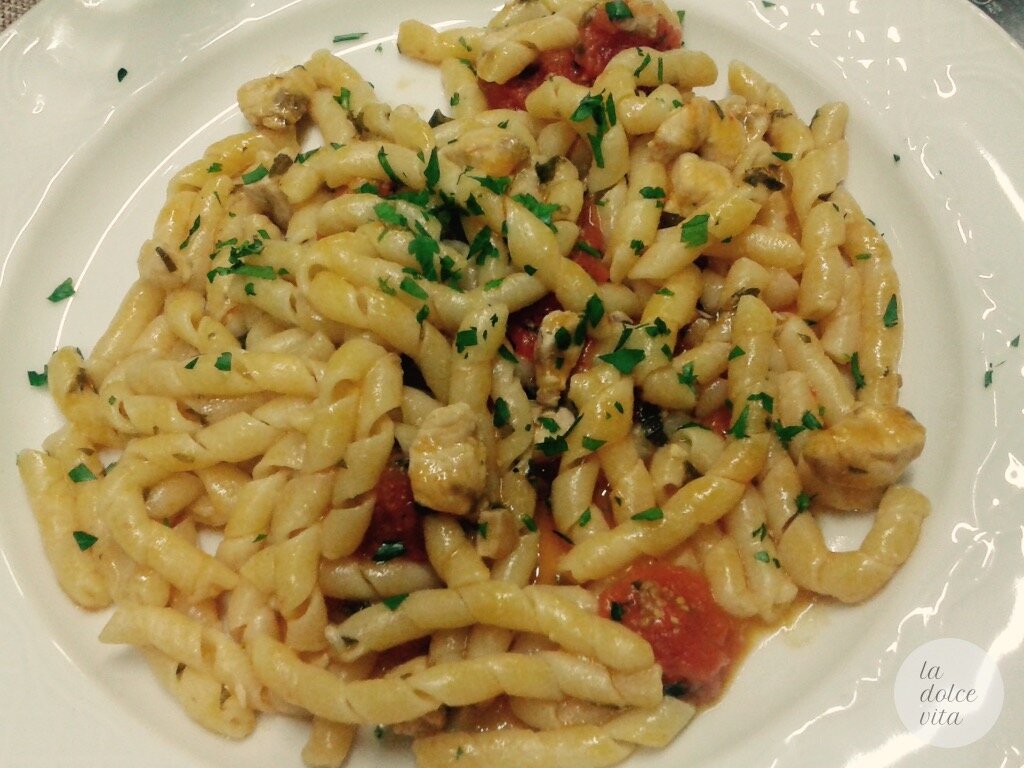 Yet, Lampedusa's cuisine is a combination of Sicilian and northern African flavors. The African contribute to the island's cuisine is the cous cous.
A typical recipe of cous cous in Lampedusa
The typical cous cous dish is made with grouper. As it is not always possible to make it with this fish, because it depends on what fishermen manage to fish, cous cous can also be made with other kinds of fish, like mussels, squids, monkfish. Regardless of what fish is available, the same steps are to be followed to make a proper cous cous according to the African traditional recipe.
It is not hard but it takes time, so if you want to try your hands at this recipe, make sure you have enough time to dedicate to it.
Here's what you need for 4 people:
500 gr cous cous semolina;
4 tablespoons extra virgin olive oil;
50 cl water;
1 grouper (about 1 kg);
various kinds of fish to make fish broth: mussels, shrimps, monkfish, octopus, bream, squid, red mullets;
2 onions;
5 cloves of garlic (or more, if you like it);
1 celery;
3 carrots;
2 potatoes;
1 sprig of parsley;
1 tablespoon tomato paste;
salt to taste;
red pepper to taste (facultative).
The first step consists in spreading the semolina in a large bowl, drizzling some water and oil over it and rubbing the grains with your hands to obtain bigger grains, as big as a pin head.
Now make the fish broth. Sauté onion and garlic and add water to boil the various fish, including the grouper, with vegetables, parsley and the tomato paste. Salt and pepper it.
It will take about 30 minutes. Make sure you add more water if you see that a little is left.
Now place the cous cous in the couscoussiera – a cooking tool that allows to steam cous cous semolina – and place it on the pot where broth is boiling so that the cous cous can cook and absorb the flavors coming from the pot. Steam it for about 30 minutes.
Once cous cous is ready, place it in a bowl. Filter the broth, pour it over the cous cous and leave it to rest as long as possible, so that it can absorb all the fish and vegetables flavor.
Cous cous is served on a plate with the fish on it. Fried eggplant and zucchini slices can be also served along. Broth is served too in a small bowl and has to be poured whenever you feel your cous cous is being dry.
Have you a week off? What are you waiting for? Book your holiday in Lampedusa, taste grouper cous cous and make it at home!
Special thanks
For the Capricciosa salad recipe: to Loredana, Hotel Lido Azzurro's owner
For the cous cous recipe: Matteo, chef at Hotel Lido Azzurro