The recipe of Paccheri with shellfish sauce comes from the secret cookbook of Alfredo alla Scrofa, a memorable restaurant in Rome established in 1907. That's the place where the glorious fettuccine Alfredo were born, which immediately crossed the boundaries of the capital thanks to the stories of Mary Pickford and Douglas Fairbanks, Hollywood movie stars of that era.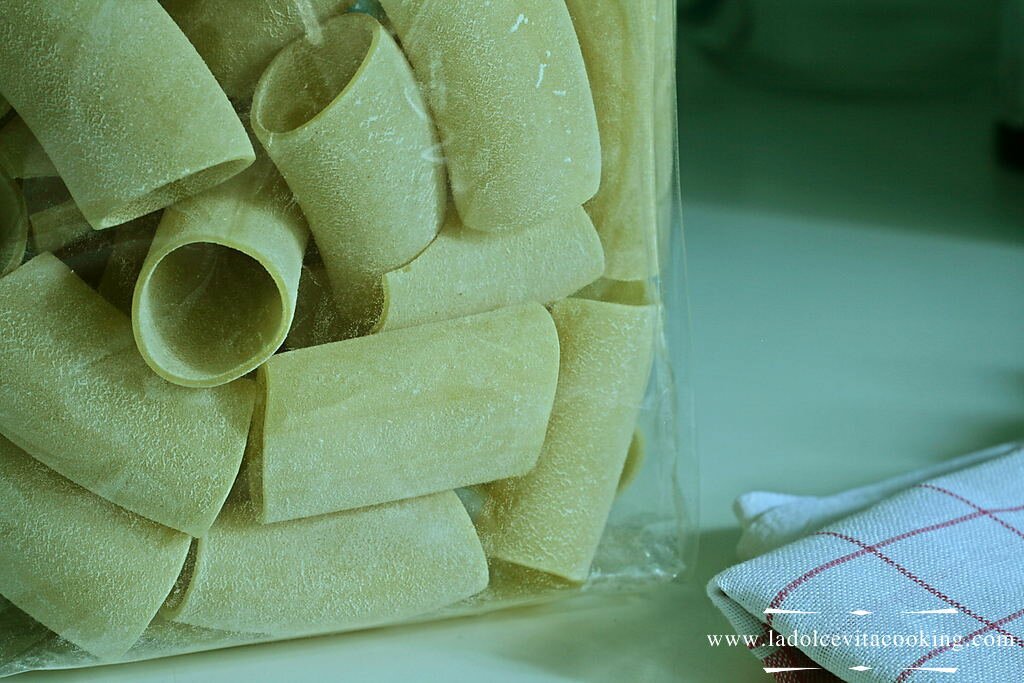 Ingredients for Paccheri with shellfish sauce, 6 people
500 grams of Paccheri;
extra virgin olive oil (half glass);
300 grams of shrimps;
500 grams of calamari;
1 kg of clams;
1 kg of mussels;
100 grams of cherry tomatoes;
3 cloves of garlic;
2 red peppers;
2 spoons of ground parsley;
white wine.
Preparation of Paccheri with shellfish sauce
Let's start by cleaning up the fish. Brush the mussels under some running water and remove the external dirt. Do the same with the clams and discard the broken ones. Remove the skin and the entrails of the calamari and wash them under running water, then dry and cut them into rings. Finally wash and dry the shrimps, after they have been deprived of the shell.
Put on the fire the clams and the mussels in two different pots. Add ground parsley, 3 cloves of garlic and 1 red minced pepper to the mussels.
Wait until the clams and the mussels open up - a lid on both pans will help - then turn out the fire and remove the shellfish one by one. Preserve some of them along with their shells. Filter carefully the broth of the shellfish and put it aside for now.
Now take a capacious pan filled with oil, fill it the remaining clove of garlic and the calamari and brown them for 5 minutes (at least), then simmer with white wine. Add the cherry tomatoes cut in tiny pieces and let everything cook for 10 minutes, or until the calamari become tender.
Add the shrimps a little at a time and pour on them some broth of the shellfish if necessary.
Put on the fire another lid filled with water and when it starts to boil, salt it and add the Paccheri. In the meantime take the previously preserved shellfish and mix them into the capacious pan; let them cook for about 5 minutes and add some ground parsley.
Add also the preserved clams and mussels with their shells; when the Paccheri are ready, drain them and put them in the capacious pan along with the filtered shellfish broth. Don't stop cooking: let the liquid evaporate a little bit. When you're satisfied with the result, serve your Paccheri with shellfish sauce. Remember to add some shells to the plate as an embellishment.
Sources
menuale.it - Paccheri ai frutti di mare