Another year has passed and summer is coming up. This year, pack your luggage and fly to Bari, in Puglia region. A welcoming place where you will enjoy a really relaxing time and a great view when walking along the seafront.
Of course, you don't necessarily have to watch the sea only. Go to the beaches, swim in the sea, dive from the rocks and sunbathe on white sand beaches. You'll feel like reborn!
The second thing to do is tearing up the city map and getting lost in the small streets in the heart of the old city. Shaping an open-pit labyrinth, they are alleys still covered with Chianche, the old pavement rocks. It's an extraordinary experience, but pay attention not to get actually lost! Here's a secret: follow the white rocks if you want to go outwards, or the black ones to go inwards…
Obviously, you can't leave Bari with an empty stomach. And you can bet it's not going to happen as food here is so tempting!! You will be spoilt for choice: taralli to snack, panzerotti filled with tomato sauce and salted ricotta cheese, focaccia and a very special dish, ideal for veggie people too: rice, potatoes and mussels tiella.
Rice, potatoes and mussels tiella recipe
The local word tiella has originally been used to name the oven pan. Now, with tiella people in Bari name everything that is cooked in an oven pan. They used to lay various raw ingredients in layers in an oven pan to be baked afterwards. The ingredients were chosen according to the season and to the cooks' creativity, but potatoes never had to miss.
The tiella recipe we recommend you to try is the most famous one, made of rice, potatoes and mussels.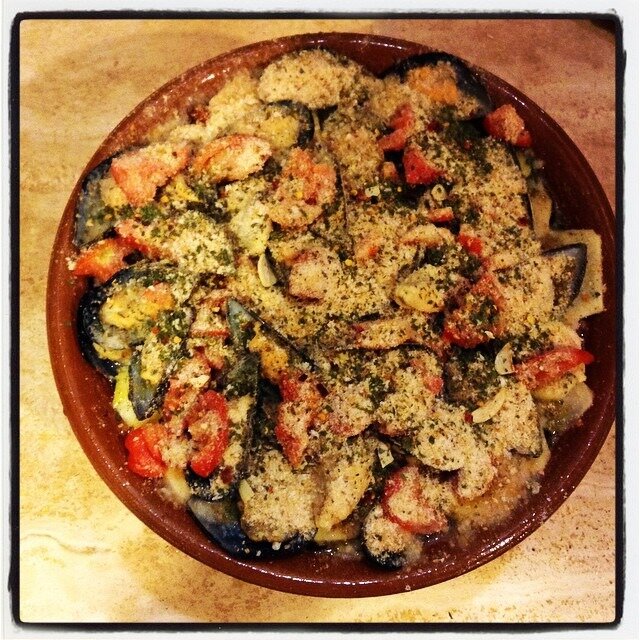 Ingredients
300 gr white rice;
1 kg mussels, already cleaned;
500 gr potatoes, finely sliced;
10 cherry tomatoes, chopped (optional);
1 clove of garlic, minced;
1 onion, sliced;
parsley to taste;
pepper to taste;
extra-virgin olive oil, as necessary.
Method
Place the mussels into an oil greased pan along with garlic. Cover with a lid and cook them for about 5 minutes or until all the shells have opened. Afterwards, take the mussels out of their shells and put them in a bowl. Filter the briny juice the mussels have released in the pan and keep it for later.
Now, the great part. Grease the oven pan with a drizzle of olive oil and lay (follow this order): a layer of potatoes that you will season with pepper, parsley and onion. Then, a layer of rice, another one of mussels, then potatoes again and finally onion, tomatoes (if you like), and parsley. Season with pepper, a drizzle of oil and add both water and the filtered mussels juice into the pan till everything is covered. Bake for 45 minutes at 180° C/ 350° F.
Do not ever add salt! The mussels juice has already salt in it and its taste and saltiness will penetrate into the other ingredients while baking.
Easy, isn't it? You can choose the ingredients we are suggesting you, but you can create your own tiella recipe. What are you waiting for? Let us know how you make your own tiella!
Sources
laterradipuglia.it - Riso, Patate e Cozze
it.wikipedia.org - Tiella alla barese di patate riso e cozze
hotelinpuglia.it - 6 Cose da fare a Bari in Vacanza