An excellent way to reuse stale bread.
We faced several manner to reuse the stale bread: another tasty one is what we call the Tuscan "Panzanella" (or panmolle, which means soft bread).
The Panzanella is a sort of salad enriched with chunks of soaked stale bread, tomatoes, onions and cucumber. This dish is perfect for the summer, thanks to its coolness: you don't have to cook anything!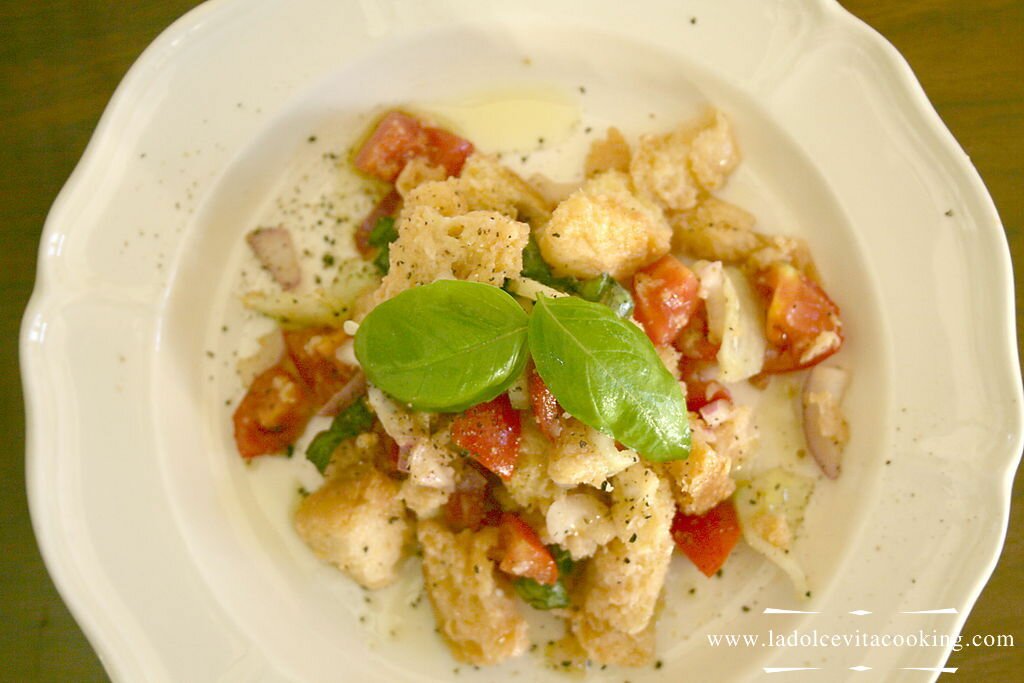 The Panzanella is a clever recipe that allows you to recover the remains of bread. It's a quite simple dish to prepare that always put us in high spirits. You'll surey find someone willing to help you in the preparation of the Panzanella, because it's very funny and a very enjoyable practice.
Ingredients for the Panzanella
stale bread;
2 tomatoes;
1 cucumber;
1 red onion;
extra virgin olive oil;
salt;
pepper;
basil leaves.
Preparation of the Panzanella
The first step consist in soaking the bread. Take a salad bowl, fill it with fresh water with a little bit of vinegar and put the bread in it, for about 15 minutes.
In the meantime wash and cut into small pieces the tomatoes, the cucumber and the red onion.
Go back to the salad bowl, pick up the bread and squeeze it with your hands, in order to remove the most part of the water. Take another salad bowl (or reuse the previous one) and put the soaked bread into it.
Add the vegetables previously cut to the salad bowl, together with the bread. Dress the compound with salt, olive oil and basil leaves at will.
The Panzanella is finally ready and it's good even the next day, but remember to keep it in the fridge.