From Palermo with love.
Caponata is one of the most famous dishes of Sicilian cuisine. It is suitable for veggies who love fried and sweet and sour food. It consists in fried vegetables, olives and capers with sweet and sour tomato sauce.

The simplest version is the one from Palermo, where the vegetables used are eggplants only, while other cities' versions also include sweet peppers, potatoes, carrots, and even pine nuts and raisin. How creative are Sicilian women! It is served as appetizer or side dish, while it was once a main course eaten along with bread.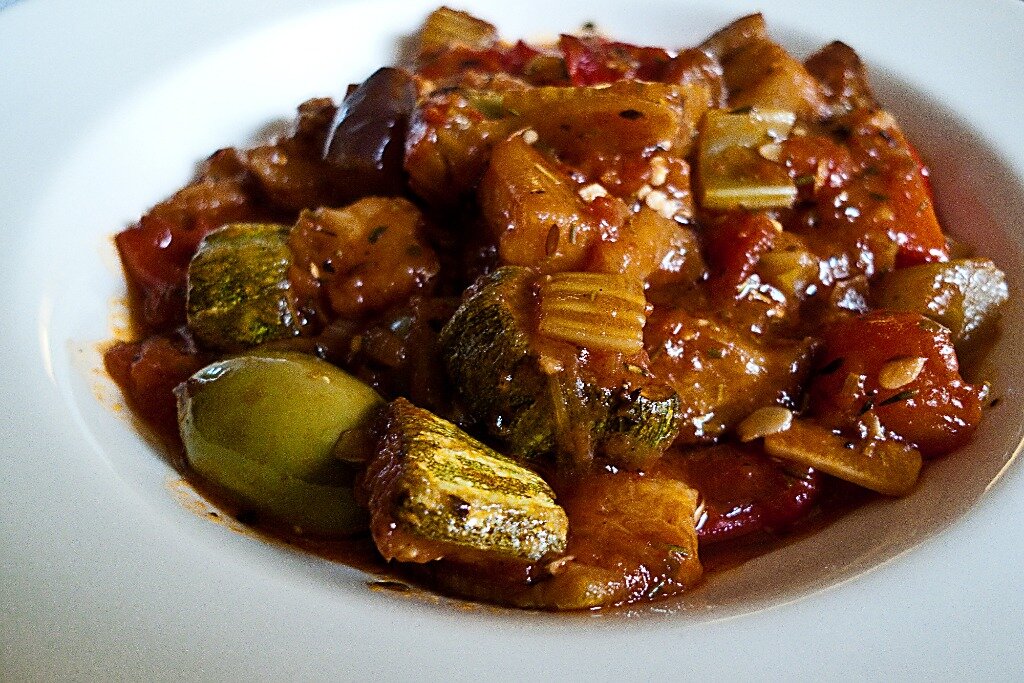 Caponata from Palermo. Image credits: Stijn Nieuwendijk.
Caponata recipe: ingredients

Here we are with the recipe. This is the one from Palermo, the easiest version. The first things you need are: a good quantity of patience, the same amount of time, and... many frying pans.
After that, you need:
5 eggplants;
300 gr green olives;
1 big white onion, peeled and chopped;
3 sticks of celery, sliced;
½ liter of tomato sauce;
a spoonful of tomato extract;
a handful of capers (if salted, wash them before using);
4 tablespoons of sugar;
4 tablespoons of white vinegar;
salt to taste;
sunflower oil to fry.
Caponata recipe: preparation
Firstly, dice your eggplants, put the dices in a colander, sprinkle them with salt and put a dish and something heavy on top of them. This way, eggplants dices will release their bitter water. Leave them for 1 hour at least. 
In the meantime, sauté onion in a pan and then add the tomato sauce. Dilute the tomato extract in half glass of water and add to the tomato sauce. Cook it over a low heat for 5 minutes. Afterwards, add celery, olives (remember to spit them, if you don't want unpleasant surprises) and capers. After another 5 minutes, add sugar and vinegar and stir. Cook over a low heat for 15 minutes then.
While the sauce is cooking, fry the eggplants dices. If necessary, squeeze them with your hands before frying them, otherwise they will absorb a lot of oil! Once fried, leave them to drain in a bowl with paper towel. Not too much though, since oil is a great "touch of taste" in Sicilian cuisine!
Finally, add eggplants to the pan where tomato sauce is, stir to let the eggplant dices absorb all the flavors and let it cook for 5 minutes. After that, it's ready! But you can't eat it now!
It is to be served cold, after 12 to 18 hours rest in the fridge. I had warned you: patience is the first "ingredient"!
It's a bit long recipe, but so tasty: it is worth the time!
Sources
wikipedia.org - Caponata
petitchef.it - La Caponata Palermitana
cambiamenu.it - Caponata Palermitana
Images released under Creative Commons license.